A Few Ways to Clean Out a Tub Drain
For small issues, it's a great concept to have a few at-home treatments ready to utilize when required. Therefore, right here are the most effective methods to unclog a drain.
Things Not To Do When Attempting Drain Cleaning
While it's an unfortunate truth to accept, toilets don't last forever. Whether it's because of time, use, or catastrophe, sometimes they need to be replaced. Unless your toilet literally explodes (don't worry, it doesn't happen often), it's hard to tell when it's time for a new one. We've gathered the five most obvious signs that it's time to replace your toilet below. They'll help you be more aware of when it's time to call the professionals in for a swap out.
It's constantly getting clogged.
Toilet clogs are stressful and headache-inducing. Plus, who has time to constantly plunge the bowl? Random clogs aren't uncommon and one or two happening shouldn't be alarming. When they start happening regularly, though, it's a sign of something bigger. Older low-flush toilets tend to have frequent stoppages when they age and their interiors get worn out.
It wobbles.
A toilet wobbles when you sit on it for a few different reasons. One of them is that the screws at the base of the bowl have gotten loose. If that's all the problem is, it can be solved quickly just by tightening them. Unfortunately, that's not the only reason toilets wobble. A more serious cause is water damage to the floor underneath causing the screws to not be able to hold as tightly. While the wobble doesn't always mean your toilet itself needs to be replaced, it does mean that there are bigger problems at play.
It's constantly running.
If your toilet keeps on running no matter how hard you try, there are a few potential causes. Sometimes it means that the rubber flapper at the bottom of the tank is damaged. It can also mean that the fill valve in the tank has been broken in some way. Either way, while sometimes fixable, these problems can be a grade-A sign that it's time for a new toilet.
It's cracked.
Porcelain is a sturdy material, but like with all things, it can still wear down. Cracks in the porcelain base of your toilet can lead to frequent puddling and leaking. This constant flow of water can damage flooring and lead to water bill increases over time, wasting hundreds of dollars yearly.
It's old and inefficient.
The four other signs on this list are signs that it is necessary to replace your toilet. This last point is more about efficiency. The Environmental Protection Agency created the Energy Policy Act in 1992 when they noticed how much water conventional toilets wasted. This act requires residential toilets to use no more than 1.6 gallons of water per flush. These days, there are many low flow options that use half that much water or less. If you're environmentally conscious or just want to lower your long term water bill, it might be time for a change.
If you think it's time to replace the toilet in your home, call the experts at Len the Plumber and we can send someone over same-day for an professional analysis.
The post 5 Signs It's Time to Replace Your Toilet appeared first on Len The Plumber.
Garbage disposals are the power horse of the average kitchen. They suck away food waste, slurp up flat soda, and in general help make homes a little less wasteful and a little more eco-friendly.
It's not too difficult to keep your garbage disposal working at its best. First things first, know what things aren't supposed to be put into the garbage disposal. Fibrous materials, coffee grounds, liquid grease, bones, fruit pits, or egg shells. These are all things that can dull blades, cause clogs, or generally impede the performance of your garbage disposal. Next up is regularly cleaning it. We've listed a step-by-step process for deep cleaning your garbage disposal below.
First, flush it out with water.
This is going to work to dislodge any loose food waste, dirt, and grime. The best way to do this is by plugging the opening to your garbage disposal and filling the sink until there are around three inches of hot, standing water. Add some dish soap, swish it around, and then remove the plug so it can flush through the disposal's pipes. Hot water is needed because it will liquify any grease or similar crud that's built up on the insides of the pipes.
Next, throw some ice cubes and salt down the disposal.
This might seem like a peculiar step, but trust us when we say it works. After the ice and salt are in the disposal, two and one cups of each respectively, turn on your disposal. It'll be loud, but don't worry – that's part of the process. Turn on water from the tap to run during this process and the combination will work to remove sludge and other debris from the inner walls of your disposal. An added bonus of this step is that grinding ice works to sharpen your garbage disposal blades, improving its overall performance.
Now you want to give it a good scrub.
Let us preface this by telling you that you absolutely should not put your hand inside your garbage disposal. We recommend using a long-handled scrub brush or an old toothbrush to reach inside and manually clean the inner walls of any remaining debris. You can do this with just water or with the help of some dish soap to be especially thorough. Like with previous steps, rinse it out with water afterwards.
Voila! Your garbage disposal is now clean. If you'd like to take further steps to freshen up the useful appliance, you can throw some citrus peels or essential oils inside and run it for added fresh scent.
If you're interested in a garbage disposal installation, or have a clog you can't quite clear, get in touch with the pros at Len the Plumber.
The post How to Clean Your Garbage Disposal appeared first on Len The Plumber.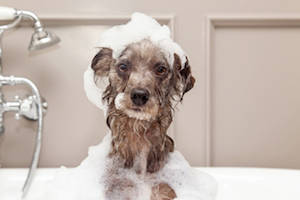 According to the American Pet Product Association, approximately sixty-eight percent of US households have a pet. That's nearly one hundred million households! Nearly one hundred million households have to account for the potential problems that come with having pets. Pets tend to put a special strain on all kinds of household fixtures–especially plumbing.
Last time, we covered a few ways to protect your plumbing from pets (and vice versa) and we only scratched the surface. Here are four more tips you should follow to pet-proof your home's plumbing. Keep up with each one of these best practices, and you should never have to worry about pet plumbing problems again.

Cover up exposed pipes
It's the same idea as childproofing a home. Just like children love to open cabinet doors, pets love to chew on things. Avoid an unnecessary trip to the vet by covering up exposed pipes and wires.
If a pet bites through a pipe, fixing the resulting burst could be a pricey problem. It might also damage the surrounding home or, worst of all, hurt your pet! Turn concealing your home's piping into a fun creative project. You'll protect your home, your plumbing, and your pet all at once.
Keep plenty of water out
Pets drink out of the toilet because they're thirsty. If you make sure they always have something else to drink, they generally stay out of toilet water. As a general rule, check on and top off your pet's water bowl at least twice a day. Make sure they always have a non-toilet drinking option, and they'll use it.
Rinse dirty pets off outside
Rolling around in the mud and muck is every dog's dream, but it can also be a plumbing nightmare. When you wash a muddy dog off in the bath, it's guaranteed to lose tons of muddy, matted fur. Unfortunately, that muddy, matted fur clumps together just as stubbornly in a drain as it does on your dog. Nothing can create a clog quite as quickly or reliably as a muddy dog bath.
To counteract the worst of the drain-clogging potential, we recommend stages of dog bathing. Pre-rinse your dog while you're still outside to remove the worst of the grime. Once you've removed enough mud to see the dog underneath, take them inside to finish the job. If you rinse your dog outside, at least your pipes won't have to contend with a deadly mud-fur combo.
Keep cleaning chemicals out of reach
If pets get into your bathroom cleaning supplies, they could make themselves seriously sick. Make sure your bathroom cleaners are either up out of reach or behind locked cabinet doors.
Avoid having chemical drain cleaners in the first place. Not only are chemical drain cleaners poisonous to pets, they're actually damaging to the pipes, too.
If your beloved family pet has caused a plumbing problem, don't worry. Just call the professionals at Len The Plumber. No matter how stubborn the clog or bad the burst, we have just what you need to fix it.  
The post 4 More Ways to Pet-Proof Your Plumbing appeared first on Len The Plumber.
Plumbers in CT are fully licensed and insured. Call Right Now for a free estimate for all your plumbing repairs and clogged toilet and drain problems throughout the state of Connecticut. We do it all from boiler repair, clearing and snaking clogged drains, replacement to water heater repair and installation, leaky faucet repair, sewer line jetting, licensed plumbers in CT has you fully covered.